NY Tour Turns Evil Eye on Surveillance Cameras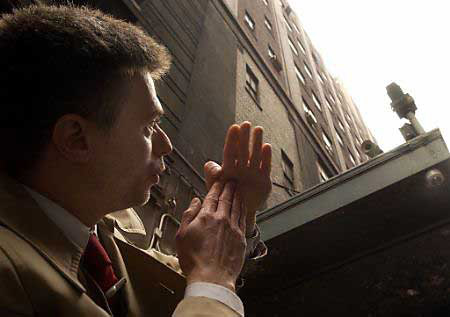 NEW YORK - Bill Brown stands in the middle of a crowded Manhattan sidewalk, gesturing obscenely toward the sky.
"You've got no right to do this! I think you're a coward!" he shouts at a video camera [connected to the Internet] staring back at him from four stories up. Unusual behavior for a New York tour guide, but Brown is offering a view of the city that few visitors or natives see. His "Video Surveillance Tour of Manhattan" scans rooftops, storefronts and utility poles for some of the thousands of surveillance cameras perched across the city.
On this recent tour [offered on 3 April 2003 as part of the "Computers, Freedom and Privacy" conference], he doesn't have to look hard to find them. Brown has so far discovered eight other cameras within steps of the midtown hotel where the tour started, and he has mapped a total of 239 in the neighborhood. Like an avid bird watcher, Brown points each one out and almost lovingly describes its capabilities and limitations.
At the corner of 34th Street and 8th Avenue, a futuristic globe mounted next to street lights keeps an eye on traffic. Across the street, a "Web cam" posts images of the street to the Internet. Half a block away, a small tube poking out of the side of a building scans patrons entering a Wendy's restaurant, as well as pedestrians walking by, with infrared, heat-vision technology to cut through fog and rain.
"What do they need that for? I think they're paranoid," Brown says. It's a charge he's heard more than a few times himself. With a single-minded vision, Brown has led weekly video-surveillance tours of Manhattan neighborhoods since November 2000, pointing out the locations of police and private security cameras and questioning whether they do any good. Brown conducts the free tours for the Surveillance Camera Players, a seven-year-old New York group that protests against the cameras in public places.
The cameras are a clear violation of privacy, Brown maintains, enabling hidden voyeurs to peek down women's blouses, scope out "suspicious" young men, and track citizens going about their daily business. They do little to deter crime, he says, as law-enforcement agencies have decided it is not cost-effective to staff monitoring centers, and private businesses are more interested in deterring employee theft and documenting accidents for insurance purposes.
"The idea that someone is watching in real time and can stop a rape, a robbery or a murder has been completely abandoned," he says. No matter their effectiveness, the cameras are unlikely to come down any time soon.
[Brown reports that] Downtown Chicago boasts an average of three surveillance cameras per block, while police in Washington, D.C., have sought the ability to augment their surveillance system by tapping into private cameras. Traffic cameras in London can match license-plate numbers with car owners, enabling police to easily track drivers and automatically issue tickets for traffic violations. In Manhattan, the New York Civil Liberties Union counted 2,397 cameras in 1998, and Brown says the number of cameras in high-profile spots like Times Square has tripled since then.
Brown would like to see laws requiring operators to buy licenses or be forced to justify their cameras before putting them up. But the first step, he says, is to raise awareness through his weekly tours.
This afternoon, he wins at least a few [sic] converts. Three passersby lean in to hear his analysis of the two cameras perched above a hotel entrance, then pick up handwritten maps pointing out camera locations in the neighborhood. Hector Cruz says he finds the map troubling. "Our right of privacy and our freedom of speech are going down the drain," he says. His friend Hector Carrion agrees, saying that police using surveillance cameras have mistaken a handshake for a drug transaction. "The camera can't see what's in your hand," he says.
(Written by Andy Sullivan and published by Reuters on 8 April 2003.)
---
By e-mail SCP@notbored.org
By snail mail: SCP c/o NOT BORED! POB 1115, Stuyvesant Station, New York City 10009-9998
---