The Eyes of Texas are Upon . . . YOU!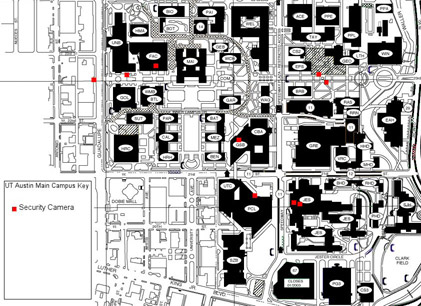 At the University of Texas at Austin surveillance cameras have been installed throughout the campus in the name of "security". The number of cameras, their location and purpose, who monitors them, and a whole host of other questions have been deliberately hidden by the UT administration.

Surveillance is contrary to the ideals of a university environment. The vision of an academic community uninhibited by restraints on expression of thought is threatened by the establishment of intrusive devices that can instill the fear that one is being watched- in classrooms, dorm rooms, anywhere. This can hinder the "marketplace of ideas"- the very process that drives the university; this debate itself is crippled through UT's secrecy.

UT has fought disclosure of the locations and operating procedures of the cameras, denying Open Records requests and even getting a change in state law to keep this information hidden. It is impossible to hold UT, a public institution, accountable since they won't disclose information about the cameras.

One reason for their secrecy may be that the cameras don't really secure anything. On January 23, 2003 (MLK Day) the Martin Luther King, Jr. statue was covered in eggs. Despite two cameras trained on the statue directly, UTPD claimed that the 2 cameras were inoperable and thus no evidence could be gathered. Cameras also did not catch perpetrators that egged the ACES building on 24th and Speedway nor the Harry Ransom Center. Nor did they see anyone leave a bundle of flowers under the Robert E. Lee statue in the South Mall.

Another reason for UT's refusal secrecy is that transparency would reveal the fact that there's no system of accountability in place. UTPD Chief Jeffrey Van Slyke has bluntly said "I don't know where the cameras are." UTPD monitors only a select few cameras, leaving the installation to Information Technology Services (ITS), which sets up cameras for individuals, departments or other entities who file a request. It appears that ITS has no guidelines; they put the cameras up, but then what? Who monitors them and for what purpose? William Stephens, an ITS systems engineer has stated, "My concern is there's no real policy on how these [systems] are managed. The University should have a policy." (The Daily Texan 2/14/2003.) Rather than some centralized Panopticon keeping an Orwellian eye on UT, it appears campus surveillance is a decentralized, unaccountable, and haphazard effort.


Why the Concern?
UT Watch is concerned about the pervasiveness of cameras on the UT campus and their implications.


What is done with the tapes and/or digital storage devices that footage is stored on? Who gets them? Where do they go?



What kinds of spaces are monitored?



What kinds of activities are tracked and monitored?



Is there a central location for viewing? Is the video feed available through campus intranets or the internet?



Is there a coherent policy for installation and operation of the cameras?



Invasions of privacy- with cameras exempt there is no way to know if cameras are located in or are viewing into bathrooms, dorm rooms, anywhere.



Threat to free speech and assembly



Threat to free exchange of ideas on campus



""A lot of sort of science-fiction scenarios are technologically possible now," says Jay C. Stanley, communications director for the American Civil Liberties Union's Technology and Liberty Program and co-author of a recent report, "Bigger Monster, Weaker Chains: "The Growth of an American Surveillance Society." Campuses cause greater privacy concerns than other locations where cameras might be installed, he says, because "there's one administration over the entire campus, so it's a natural to set up one centralized viewing room," making it possible for campus officials to secretly follow students around the campus. That concern is heightened by the extensive reach of the USA Patriot Act, he says, which could potentially be used to force campus officials to hand over data about student behavior."
Our Stances
Students should have a right to know if they're being monitored.



Academic space should be as free as possible. Free speech and exchange of ideas are integral aspects of a healthy university and free society.



Student, staff and faculty should feel free to participate in any kind of political/social/other kind of activity without fear of being monitored.



The West Mall is not a primary target for terrorist activity and disclosure of camera locations in most parts of 40 acres will not threaten national security.



Only through disclosure of camera locations and their operating procedures can students and the public know if UT, a public institution, is using cameras in a way that is not abusive. Cameras in locations that are critical, such as at the nuclear reactor at J.J. Pickle, should be exempt and they can be under the law prior to HB 9.



UT's Campaign for Secrecy
On October 11th,2002, Jonathon York, a reporter for The Daily Texan, filed an open records request for information concerning camera locations on campus and their time of use. UT responded by filing a lawsuit with Attorney General Greg Abbott. Abbott immediately threw the case out stating that he was "hopeful that UT will promptly produce the public records, rather than continuing to fight in litigation." Deputy Attorney General Jeff Boyd added that Abbott was adamant that his office fight the University's position. The University appealed, and that suit was thrown out by Travis County District Judge Paul Davis. UT then filed yet another suit but dropped it.

This occurred during the Texas 78th Legislative Regular Session in spring 2003 and UT was determined to avoid disclosue through legislative means by taking advantage of the flourishing security culture since 9-11. Rep. Ray Allen, R-Grand Prairie, introduced HB 1191, which sought to keep certain government information about emergency procedures and weapon building in Texas confidential. In February, according to Allen, the UT System requested a clause closing off information "that relates to the details of a security system that is used to protect public or private property, including an access code to the property" in HB 1191. Present for a hearing for the bill on March 10th were UT System Attorney Helen Bright and UT Director of Environmental Health and Safety Erle Janssen. (The Daily Texan 4/3/2003)

The bill passed through committee, but the Open Records clause was removed. However on the House floor Rep. Phil King, R-Weatherford, revived the amendment to the bill. Several representatives of both parties including Reps. Suzanna Gratia Hupp, R-Lampassas, Senfronia Thompson, D-Houston, Lon Burnam, D-Fort Worth, and Scott Hochberg, D-Houston questioned King and the amendment. Hupp and Burnam expressed dislike for the amendment altogether. Thompson questioned its effect in the rules of discovery in a civil suit. Hochberg stated that the amendment's wording was vague. King's amendment was withdrawn.

In late May a similar amendment was added to HB 9 by Sen. Eliot Shapleigh D-El Paso. This bill exempts operating procedures and locations of the cameras from Freedom of Information Act requests, except requests on the locations of cameras in private offices at state agencies. Any information about cameras in public spaces in now closed. Suprisingly Shapleigh has said, "History has taught us to be vigilant about the loss of liberty to those who want to 'monitor us in order to increase our security,' Republicans and Democrats alike had some concerns when I asked the simple question, 'Do we know if there is a camera in our office?'" and initially wanted to disclose all the information. He has said that proponents of the exemption to the open records act "made a plausible case" that influenced his change of position. (The Daily Texan 6/16/2003)

Who are these proponents? We don't know exactly who Shapleigh is referring to, but we do know that UT officials Helen Bright and Erle Janssen attended these hearings regarding confidentiality of information throughout the session.



Text from legislation- Amendment to HB 9

Sec. 418.182. CONFIDENTIALITY OF CERTAIN INFORMATION RELATING TO SECURITY SYSTEMS. (a) Except as provided by Subsections (b) and (c), information, including access codes and passwords, in the possession of a governmental entity that relates to the specifications, operating procedures, or location of a security system used to protect public or private property from an act of terrorism or related criminal activity is confidential.

(b) Financial information in the possession of a governmental entity that relates to the expenditure of funds by a governmental entity for a security system is public information that is not excepted from required disclosure under Chapter 552.

(c) Information in the possession of a governmental entity that relates to the location of a security camera in a private office at a state agency, including an institution of higher education, as defined by Section 61.003, Education Code, is public information and is not excepted from required disclosure under Chapter 552 unless the security camera:

(1) is located in an individual personal residence for which the state provides security; or

(2) is in use for surveillance in an active criminal investigation.



---
(The following was written by Lomi Kriel and published in the 16 June 2003 issue of The Daily Texan.)
Law allows UT to keep security camera info secret
Cameras included on FOIA exemptions in recent legislation
Texas' homeland security bill, which would keep secret the locations of security cameras around campus, awaits only the signature of the governor before becoming law. A subsection of House Bill 9 would effectively exempt operating procedures and locations of the cameras from requests under the Freedom of Information Act. The bill was sent to Gov. Rick Perry June 3.
Last year, The Daily Texan filed an Open Records request for camera locations and expenses at the University. After Texas Attorney General Greg Abbott ruled in favor of the Texan, the University filed a lawsuit to overturn his decision. Travis County District Judge Paul Davis dismissed that suit in February. The University decided to appeal the case in March.
Under an amendment to the bill, information regarding security cameras in private offices remains public information. The bill closes information about cameras in public areas.
"If you're trying to find a camera by the Texas Union, you're not likely to get that," said Sen. Eliot Shapleigh, D-El Paso, the author of the camera amendment. "But you can get the location of a camera in a private office, like a financial aid counselor's office." Shapleigh pushed the new clause after fears that the bill would close all information regarding security cameras.
"History has taught us to be vigilant about the loss of liberty to those who want to 'monitor us in order to increase our security,'" Shapleigh said. "Republicans and Democrats alike had some concerns when I asked the simple question, 'Do we know if there is a camera in our office?'" Shapleigh said that he had originally opposed closing this information. "I wanted all camera locations disclosed, I saw no need for an exception to the Open Records Act," Shapleigh said. "But the security folks made a plausible case that those locations should be exempt."
Patricia Ohlendorf, vice president for institutional relations and legal affairs, said this legislation would close information similar to that requested by the Texan. "We had understood that this was a matter important not only to the University, but also to state law enforcement agencies," Ohlendorf said. Ohlendorf said it was not yet clear whether this legislation would affect the lawsuit.
Mike Viesca, the attorney general's press officer, said he could not comment on legislation currently before the governor.
Various UT officials attended hearings regarding the confidentiality of security camera information throughout the session, including Helen Bright, UT System attorney, and Erle Janssen, UT Director of Environmental Health and Safety. But the University's representatives were only there to provide information, Ohlendorf said. "You can't ask someone to vote or not to vote," she said.
Scott Henson, a member of the legislative committee at the American Civil Liberties Union, worried that under the bill's restrictions, not only would one not know where the cameras were located, but also how the tapes were used. Shapleigh voiced similar concerns. "We are living in an era when we must be very vigilant about the loss of privacy," Shapleigh said.
William G. Staples, a sociology professor at the University of Kansas and author of "Everyday Surveillance: Vigilance and Visibility in Postmodern Life," said if universities use tapes in their surveillance cameras, then students should have input into regulating that policy and procedure as a security measure.
Nationwide, concerns about surveillance cameras have been raised as more universities use them for campus security. H. Scott Doner, president of the International Association of Campus Law Enforcement Administrators, estimated that almost half of all American colleges have at least a few security cameras. "They are a great, effective crime prevention tool," Doner said.
Staples said it is crucial to provide a compelling case as to why security cameras are necessary in a specific location and to show evidence that it would increase security. "There is an increased belief in our society that cameras solve problems," Staples said. "I am just not convinced that that is the case." Staples also said if cameras are used for crime deterrence, then signs notifying camera surveillance in a specific area should be posted.
But disclosing camera locations around important research activities might aid potential terrorists, Shapleigh said. Ohlendorf said in January that withholding camera locations is crucial to public safety.
But Staples voiced concerns about the effects of surveillance on an academic community. Staples said college campuses are often a place for engaging in political debate and discourse, and surveillance could possibly deter individuals from such participation, who worry that the tapes could be used against them. "Can I speak freely in public?" Staples asked. "Or do I know that I am going to be taped doing it?"
---