La Plaza de George Orwell, Barcelona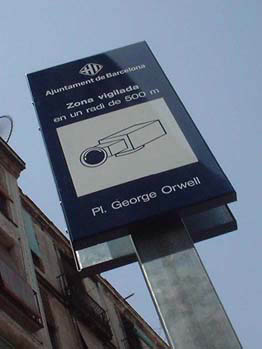 At 7:30 pm on Monday 7 October 2002, the Surveillance Camera Players (SCP) performed in front of a police surveillance camera installed in the Plaza de George Orwell in Barcelona, Spain. For this unusual performance, the SCP consisted of Bill Brown of the SCP-New York, who was in Barcelona to participate in a conference on culture jamming and hacktivism at the Centre de Cultura Contemporania de Barcelona (CCCB), two members of the Italian art group 0100101110101101.org, Juan from Retro You, Nuria, and several "locals" who happened by the performance and liked what they saw. Also in attendance as spectators/photographers were Hans from Uebermorgen and Stefano from El Pais.
Organized by Digital Is Not Analog, which had previously brought Bill to Bologna, Italy, in May 2001, the conference consisted of four presentations, one each by the Surveillance Camera Players (4 October 2002), Uebermorgen (5 October 2002), Casseurs de Pub (9 November 2002) and Electronic Disturbance Theater (10 November 2002). For Bill Brown's presentation, which was translated sentence-by-sentence into Spanish by Isabel (hired by the CCCB) and "streamed" live on the Internet by Radio Red, more than 150 people showed up. In addition to hearing Bill talk about the history of surveillance cameras, their relationship to the militarization of the police, and the activities of the SCP-New York, the audience-members saw 20 minutes of video (the SCP-New York's classic performance of 1984, Bill's appearance on the Nachman Show, and a Spanish-language segment on the SCP aired by Nosolomusica in January 2001.) Then there was a long question and answer period, during which such subjects as surveillance in England and Australia were discussed at some length. After his presentation, Bill went to Conversas, a squat/performance space at which the members of Yo Mango were showing a bi-lingual videotape that they themselves made about their (in)famous 5 July 2002 "performance" at a hip Barcelona boutique (Yo Mango specializes in shoplifting).
Like many of the performances that the SCP-New York gave in Germany, this one in Barcelona relied almost completely on pantomimed action. The only placards were a pair of signs that said "Surveillance Camera Players" in Spanish and English, and a sign made by Nuria and one of the members of 0100101110101101.org that asked "Que cono miras?" ("What the fuck are you looking at?"). With an improvised "altar" placed directly beneath the surveillance camera, the group performed a pair of plays (God's Eyes Here on Earth and The Circle) twice in a row -- that is, until four police officers showed up and (rather theatrically!) grabbed and ripped the signs saying "Surveillance Camera Players" to pieces. After applauding this (unexpected?) climax, the SCP-Barcelona took their bows and paid attention to an argument that had broken out between a shopkeeper and supporters of the performance. The shopkeeper was saying that the cameras were a good thing and that "foreigners" such as ourselves didn't know what people like him had to contend with.
Quite obviously, a plaza named after George Orwell, who lived nearby during the Spanish Civil War, was the perfect place for a performance by the SCP. It's also a fucking ironic place for the police to operate surveillance cameras. But that's Barcelona, or rather that's Barcelona since the 1992 Olympic Games, which really screwed up the city. Whole neighborhoods, many of them historic and inhabited by immigrants and (other) poor people, were destroyed to "make room" for huge hotels, restaurants and boulevards. To show the world that it was a different place than it had been under Franco, Barcelona paid homage to the man who had once fought the fascists and paid homage to Catalonia. But the problem for the city government was the fact that the area once inhabited by George Orwell was, shall we say, inhospitable to tourists. The area was now inhabited by African and Central Asian immigrants, and frequented by young people who went to "La Plaza Trippi" to buy and use illegal drugs. And so, to make the area "safe," the police installed surveillance cameras and signs that warn people that they are being watched. No doubt these signs are frequently defaced with quotations from 1984, as they were on the day the SCP-Bacelona performed.
(Note: on 9 November 2002, Digital Is Not Analog offered a general report about the conference it organized; this report included the following remarks about the Surveillance Camera Players.)
The street action, lead by Bill Brown of Surveillance Camera Players, was one of the most intense moments of the whole event. While the two presentations [by the SCP and Hans Uebermorgen] resulted to be a very important moment to deliver ideas and details about the projects and to publicly discuss them with the audience, the street action revealed something unexpected. Performed as a simple and funny ritual with ready-made objects, the action against video surveillance in public areas took place in George Orwell Square, which is ironically one of the heaviest video surveilled areas in the old centre of the city. What follows is a short account of what happened.

We are perfectly aware that the Barrio Gotico is not Manhattan, nonetheless we wanted to test the idea and see what might happen. What we didn't expect was that a topic we decided not to focus on (immigration), re-emerged and got stuck on our own bodies. During the whole performance (btw it was silent, very polite, almost hieratical) some old men from the building in front of which we were performing started making fun of us, talking loud, throwing lighted cigarettes over us. That's interaction! After 15-20 minutes the police showed up, refusing to accept the flyers we were handing them and breaking into pieces a simple 'Actores de las camaras de vigilancia' placard (according to them it couldn't be held at a closed rolling shutter, nor could it be put on the ground for it was like dirtying the public soil).

At the end of the performance a man from the restaurant at the corner (the owner?) started calling us names, trying to turn more people within the little crowd against us. "You're not even Spanish, you don't know what it means to live here", he kept shouting. Of course some of us are not Spanish, but some are or live in Barcelona since a long time, but that was not enough for him. "The Spain you have in mind fortunately does not exist!" replied one of us and even some people from the public started discussing and almost arguing with the man, now supported by some of his mates. "Go and wash yourself and your clothes before talking to me" was the reply to us. The funniest thing was that the restaurant this man works for (or that he even owns) has multi-lingual menus at the door, and as a provocation we had been told not to stand in front those multi-lingual menus window "because you are disturbing our job".

While that neighborhood is today a mostly turism-colonized area, some decades ago it was one of the most relevant destinations of internal immigration. The same shop owner that tried to argue with us might be part of the Spanish families that in the 40s or 50s moved to the city from the country or from the South.

What happened during the street action confirms that migration is definitely a hot topic, from both the migrant's and the local communities' point of view. During this improvised street performance the participants - people from Surveillance Camera Players, d-i-n-a, friends, passers-by - momentarily "embodied" this problem, even if migration may be only an external problem in their daily life: that is to say, as EU citizens we d-i-n-a are like "business class migrants", and usually we don't have problems with papers, (relatively) few problems as far as job, bank account, house are concerned, etc. This investigation + embodiment + radicalization of a situation/topic is what 'artists' do or might do, and on the contrary it is something institutions never do (since they tend to create and reproduce a protected environment). The street performance showed that something stranger - and definitely interesting - happens when the roles of the artist, of the organizer and of the audience overlap and mix.
---
By e-mail SCP@notbored.org
By snail mail: SCP c/o NOT BORED! POB 1115, Stuyvesant Station, New York City 10009-9998
---