NYPD Video Broadcasts May Violate Court Order
Truck Often Seen Parked at Political Rallies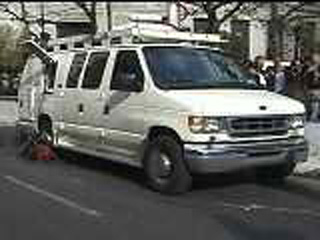 (A NYPD surveillance van in 2001.)
NEW YORK -- At the so-called Million Youth March in Harlem and last month's New York Yankees ticker-tape parade, city police rolled out one of their newest pieces of equipment: an unmarked white truck with a telescoping microwave transmitter protruding from its roof. The truck, staffed by a crew of plainclothes officers who belong to the department's Technical Assistance Response Unit (TARU), turned out to be an electronic news-gathering (ENG) vehicle, similar to thousands of others used by television news broadcasters across the country.
But the New York Police Department won't talk about it. Nor will the department acknowledge whether it recorded its broadcast of demonstrators at the rally, which would be a violation of a court order that prohibits police from routine filming of public demonstrations where crimes are not in progress. At the rally, the TARU officers even denied the broadcast truck was being operated by police, instead telling an APBnews.com reporter it was owned by an independent film crew. When the reporter discovered the truck was actually being operated by the NYPD, the officers recanted their initial statement, acknowledging they were transmitting live video of the rally to police headquarters for police brass to watch. Later, police spokesmen rebuffed queries about the vehicle and police video broadcasts.
"We're not interested in everybody knowing what the Police Department has," said New York City police spokesman Detective Walter Burnes. "What we use it for is police business. We're not going to talk about it." Burnes' supervisor, Lt. Stephen Biegel, agreed. "It's a piece of equipment that we're not going to talk about," said Biegel.
The NYPD's information blackout on its broadcast capabilities may go beyond public relations belligerence. A legal consent decree prevents police from videotaping public demonstrations such as the Million Youth March. The order, known as the Handschu Consent Decree, prohibits police from photographing or filming attendees at an event, unless a crime or confrontation is under way or imminent, said Will Harrell, director of the Police Accountability Project of the National Lawyers Guild. It's unclear whether NYPD video crews who filmed the march attempted to circumvent the legal decree by broadcasting the event to police headquarters but not recording it. Police declined to discuss their actions. Repeated messages left with the press offices of the NYPD and Mayor Rudolph Giuliani went unanswered. "The whole idea was that people shouldn't be intimidated by police videotaping," said Harrell.
Although the police declined to describe their live broadcast system, Federal Communications Commission (FCC) records -- along with a contractor hired to establish the network -- reveal a sophisticated private system that can stream live video broadcasts via microwave from a 300-mile radius around the city. In New York [as elsewhere in America], police video is relayed from the unmarked ENG truck or a pair of microwave-transmitting helicopters to the closed police network via antennas and relay transmitters on tops of buildings. FCC records show that the NYPD uses antennas that bristle from the heights of Manhattan's tallest buildings, including the World Trade Center and the Empire State Building. The city owns more than two dozen FCC licenses for mobile microwave transmission.
The FCC's records show the NYPD also owns licenses for use of three microwave broadcast frequencies that lie in a portion of the spectrum reserved for covert police operations. During investigations, police can use small, sophisticated cameras to broadcast live surveillance images to a nearby ENG truck, which can relay them to headquarters.
"They could implant a system in a telephone pole, disguising it to look like a transformer -- but it's a camera with a microwave unit," said Howard Epstein of Consolidated Spectrum Services of Atkinson, N.H. He said police use tiny surveillance cameras disguised within a pair of glasses or a pendant that can transmit live images via microwaves. "This allows them to covertly monitor any number of illegal operations that take place," said Epstein. Epstein is a private contractor hired by the New York police to research frequencies and purchase FCC licenses. His name is listed as a technical contact on some of the NYPD's broadcast licenses. Epstein said he's helped the NYPD license and operate air, land and covert frequencies. He's also set up frequencies and obtained microwave licenses for law enforcers in Pima County, Ariz.; Nassau County, N.Y.; Spokane, Wash.; and for the Maine State Police.
(Written by Jime Krane and published 15 November 1999 by APBnews.)
---
By e-mail SCP@notbored.org
By snail mail: SCP c/o NOT BORED! POB 1115, Stuyvesant Station, New York City 10009-9998
---