Unabomber for President Political Action Committee, New York City Office
#26, 1996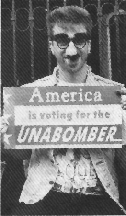 The Unabomber for President Campaign was launched in Boston in September 1995 by Lydia and Chris. In February 1996, the UNAPACK (the Unabomber for President Political Action Committee) attracted the interest of one Radio Free Al, who went on to write several stories about it in The Boston Phoenix. It was RFA who, while visiting NYC in July 1996, introduced us to the UNAPACK, its delightful array of bumper stickers and fliers, and its website, which has been up since March 1996 and updated many times since then (the last update took place on 23 Sept 1996). NOT BORED! opened a New York City office of UNAPACK in early August 1996. Since then, UNPACK NYC has been very active:
1. It hath caused to be printed and distributed more than 5,000 copies of the flyer headlined CRASH THE PARTIES, which announced the opening of its office. Most of these fliers were stuffed into unsuspecting copies of The Village Voice and The New York Free Press, both of which are distributed for free in Manhattan.
2. It hath caused to be printed and distributed approximately 1,000 copies of the flyer headlined WHY WE ARE NOT VOTING GREEN OR SOCIALIST, which was designed for Little Billy not de Bored's appearance at the "progressive" forum at the NY Society for Ethical Culture (held 26 Sept 1996), which featured remarks by Green Party presidential candidate Ralph Nader.
3. It hath raised a 6-foot-wide and 60-foot-long banner proclaiming UNABOMBER FOR PRESIDENT (in international day-glo orange!) on the top of the abandoned grain elevator in Red Hook, Brooklyn. This banner remained in place for four days.
4. It hath caused to be printed and distributed 200 copies of the clandestine bilingual pamphlet entitled WHAT WE HAVE DONE AND WHY, translated into Spanish by R. Buono, which was designed to explain the choice of the grain elevator as the place for the banner.
5. It hath with intent to sow confusion among the general public mixed its fliers (as well as the fliers issued by UNAPACK Boston, one of which is reproduced on page 19) in among the rest at such respectable gatherings as: "Madison Avenue vs. Mass Society," Baffler editor Tom Frank's 22 Oct 96 lecture on liberation marketing techniques (sponsored by New York University School of Education's Media, Power, Culture lecture series); "Looking Past the Elections: A Talk with Todd Gitlin, Ellen Willis and Manning Marable" held on 23 Oct 96 at NYU (sponsored by the Democratic Socialists of America); and the panel discussion "Campaign '96: Its Impact on NYC" (moderated by former Mayor Dinkins and held at the New School for Social Research on 28 Oct 96), among many other events.
6. It hath disturbed the peace at numerous events in the NYC area, including two appearances at the Roseland Ballroom by the muscle-rock group Rage Against the Machine (17 and 18 Aug 1996) and an on-Broadway performance of Douglas McGrath's play Political Animal (12 Oct 1996), as well as the aforementioned appearance by Ralph Nader on 26 Sept 1996. (When contacted by a caller to the 16 Oct 1996 edition of Brian Lehrer's daily program for WNYC-FM called "On the Line," Douglas McGrath indicated that UNAPACK's campaign was far too "cynical" for him and that UNAPACK NYC's stunt outside of his show not at all funny.)
7. It hath repeatedly used the silk-screened, red-white-and-blue bumper stickers generated by UNAPACK Boston to deface the property of the Metropolitan Transportation Authority, the City of New York, the Mr. Softie Corporation, and Pathfinder Books (a Trotskyist bookstore) in Brooklyn, among others too numerous to mention.
8. It hath crossed state lines to appear en masse outside and inside of the Hartford Civic Center during the first Presidential debate, held in Hartford on 6 Oct 1996. At this non-event, members from both UNAPACK NYC and UNAPACK Boston distributed fliers, spoke to passersby and the curious, and were interviewed by over a dozen reporters from such upstanding enterprises as WABC-AM in New York, Trinity College's radio station and newspaper, Brandeis University's radio station and newspaper, and ZDF Television (Germany).
9. Little Billy not de Bored, director of UNAPACK NYC, has been interviewed by the San Francisco Examiner (24 Sept 96); by the Manhattan cable access TV shows Anarchist Forum (channel 69 on 2 Oct 96, 9 Oct 96, 23 Oct 96, 30 Oct 96 and 2 Nov 96) and The Anarchist Propaganda & Variety Show (channel 17 on 23 Oct 96); by WABC 770 AM (Oct 7 96); and by Joey Manley on the World Wide Web site freespeech.org (Activism 101 for the week 3 Oct to 9 Oct 1996), among others. A transcript of the interview with Joey Manley is reproduced elsewhere. As-of-yet unpublished interviews have been conducted with Jim Ciment and Steve Wilson.
Though the presidential election on 5 November 96 will mark the official end of the 1996 campaign, UNAPACK will continue to exist as a national organization, with regional offices in Boston, New York, Chicago, North Carolina and Arizona; it will immediately introduce and popularize the slogan DON'T BLAME ME, I VOTED FOR THE UNABOMBER; it will meet in Boston on 15 November 96 to publicize, celebrate and evaluate our candidate's strong performance in the election; it will thenceforth campaign against the spectacle of the year 2000, by which time UNAPACK hopes to have induced the rupture that will inauguate the raptuous beginning of the perpetual revolution of everyday life.
---
[AUDIO RECORDINGS] [BACK ISSUES] [HOME] [LINKS] [SCANNER ABUSE] [SELECTED TEXTS] [TRANSLATIONS]

[LETTRIST INTERNATIONAL ARCHIVE] [SITUATIONIST INTERNATIONAL ARCHIVE]
---

To Contact Us:
Info@notbored.org
ISSN 1084-7340.
Snail mail: POB 1115, Stuyvesant Station, New York City 10009-9998